Description
Now available 1:1 with Target the Question™ PLUS. Learn more about Lone Star Learning PLUS
Problem Solving is often a dreaded task. Why?
Solving "word problems" is often overwhelming for students. Many times they choose two numbers and add.
For the struggling reader, solving problems is a challenge. Energy is spent on conquering the text, not the math.
Many students simply don't answer what the question is asking.
We have solved those problems with Target the Question™, where the question is the focus! There is ONE passage to read each week. Read and understand that scenario on Monday and each day that week answer a different question about that same passage! After using this supplementary math program for 10-15 minutes each day, students will be able to find needed information, eliminate extraneous information and effectively use problem-solving strategies.
Target the Question™ is correlated to the Texas Essential Knowledge and Skills (TEKS), so it's compatible with any curriculum. It is also a rigorous program, focusing on critical thinking, application of problem-solving strategies, and selective use of information from passages and questions, so students will be prepared for any major exam, including the STAAR® test. Best of all, all of these skills are covered in just minutes each day!
We proudly offer Target the Question™ in bulletin board, virtual board, and Plus 1:1 formats! Plus and virtual board versions available in English and Spanish. All versions have been updated to the newest TEKS, so you can rest assured that your students will be prepared for the STAAR® with this rigorous supplement.
We also offer TEKSas Target Practice™ for a different type of math review for those classrooms in Texas, and Target RLA™ for reading and language arts development!
STAAR® is a federally registered trademark and service mark of the Texas Education Agency. Lone Star Learning is not sponsored by, associated or affiliated with the TEA, which has not endorsed these products or services



  brings Target the Question™ to every student device. Students submit their work from their iPad, Chromebook, or any other device using lessons customized for a self-guided experience. Questions match between virtual board and Plus programs, so students can use trusted Lone Star Learning products wherever they go.
Includes a Virtual Board teacher license
Perfect for remote learning, pullouts, home practice, & make-up work
Realtime activity monitoring
At-a-glance completion reports
Perfect combination of personalized & instant feedback
Includes 6-week review of prior grade
Compatible with Google Classroom and LTI-compatible platforms
Available for English Grades K-6 and Spanish K-5
Target the Question™ Virtual Board is sold as a 1-year license ($85/year) and is available in English K-7 and Spanish K-5.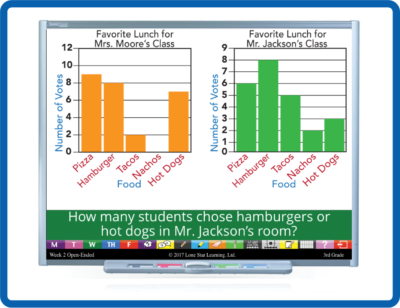 Each grade level includes different on-screen aids. Kindergarten, for example, has a number line and other tools to help visually teach students different solution options. First grade includes problem-solving mats, like a draw-a-picture tool, for extra practice with these hard-to-master strategies.
Includes problem-solving strategy solutions for the first 6 weeks!
Multiple choice question mode: Toggle between open-ended or multiple-choice questions, giving you day-by-day control to meet your class's style.
Target the Question™ includes the last 6 weeks of the previous year's program for baseline assessment, review, or tutoring.
These new tools have also been added:
+/- Number Line (grades K-2): an interactive number line that illustrates addition and subtraction with jumps and blocks allowing up to 4 addends
+/- Unit Fractions (grades 3-4): an interactive number line that illustrates adding and subtracting unit fractions with jumps and blocks allowing fractions from halves to tenths
+/- Fraction Line (grade 4): an interactive number line that illustrates adding and subtracting fractions with similar denominators with jumps and blocks allowing up to 4 addends and denominators from halves to tenths
Fraction/Line (grades 3+): an interactive tool that allows students to compare fractions and have the numbers represented in fractions, pie charts, decimals, and percentages
The bulletin board version of Target the Question™ comes with everything you need to use it, including weekly passages, color-coded daily questions for each week, vinyl pockets for display, master copies of Student Think Sheets, and instructions. As with all our products, Target the Question™ is printed with pride in the USA.
The Kindergarten version of Target the Question™ also includes 20 vinyl folders and 20 sets of story mats. These mats match the weekly scenario, and once loaded into the top-loading vinyl folders or laminated, they can be used by students to work out the daily questions!
We also carry water-soluble Stabilo® pencils for easy writing on vinyl and convenient cleanup.